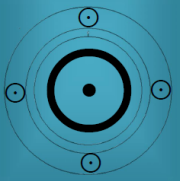 Kennedy, Rose
22 July 1890 at 19:00 (= 7:00 PM )Boston MA, USA, 42n21, 71w03
Source Notes
PT changed the time to 19:00 in September 2006 based on Frances McEvoy's insistence that she heard it directly from Rose that she was born just before sunset. However, the rating of DD stands. Original entry gave 22:00 with the source notes reading as follows: LMR quotes Doris Kearns Goodwin, "The Fitzgeralds and the Kennedys," Simon & Schuster, NY 1987, p.90, "Late afternoon ... Josie began her contractions ,,, later that night ... A little girl was born." Based on this comment, However, Frances McEvoy writes, "She was born on a summer evening just before sunset. The new father ran all over the neighborhood to announce his daughter's birth. Rose herself said it was before sunset as it was still light when her father ran around knocking on doors. Rose thought it was no later than 7:00 PM."
(Charles Higham in his biography, "Rose," writes on p.3 that she was born July 21 (not the 22nd) in a tenament in a dirty, squalid area to a dad who was a poor Irish clerk. Inasmuch as Higham trades on scandal and gossip from unsubstantiated sources, his credibility is strained.)
She died at home in the family compound on Cape Cod, Hyannis Port, MA, January 22, 1995, 5:30 PM EST.
Compare : Birth time 19:00
Transit on January 22, 1995, 5:30 PM EST to Natal
| | |
| --- | --- |
| | tSU = SU |
Lunar
lMA = MA = SU = ME
lJU = JU
lSU = lSA = lUR = lPL = PL = MN = SU/SA
lAC = SA/PL = UR/MN
lMC = SU/MA

Death of Child : On 11/22/1963, shortly after 12:30 PM CST, J.F.Kennedy was shot by assassin Lee Harvey Oswald in Dallas
Secondary
ME/MA = Son

pMN = ME/MA
pME = pUR
pMA = pPL = MA/PL
pSA = MO/ME

Solar
sMO = SA
sSA = MO
sMA = sVE = sMN = MC/SA

Rose Kennedy lost four sons (MA/ME)
| | |
| --- | --- |
| | ME/MA = ME/UR = MA/UR = MA/SA = NE = PL |