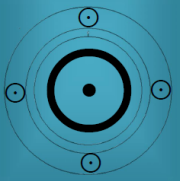 Mata Hari
7 August 1876 at 13:00 (= 1:00 PM ) Leeuwarden, Netherlands, 53n12, 5e48
Source Notes
B.R. in hand from Steinbrecher, from the Gemeente Archief Leeuwarden.
(Craswell quotes "The Measure Of Life," p. 202, same. T.P. Davis quotes Douglas Lannark of Copenhagen for 12:34 PM. Circle No.344, quotes biographer Wertenbaker, "Eye Of The Lion," for 1878. Britannica has 8/07/1876. PC quotes Astarte for 2:00 PM.)
Biography: Julie Wheelwright, "The Fatal Lover: Mata Hari and the Myth of Women in Espionage," Trafalgar/Collins & Brown, 1993. There are about 30 biographies written about her.
Death by Execution 15 October 1917 at 06:15 AM in Vincennes
The time of death is recorded as 6:15am on death certificate in Didier Geslain archive, 'm' pdf file, p. 107.
Secondary : 15 October 1917 at 06:15 AM in Vincennes
pPL = SU = UR = MA
pUR = pAC = MA/SA
Secondary Converse : 15 October 1917 at 06:15 AM in Vincennes
pPL = SU = UR
pMA = AC
pMC = MA/SA

Solar : 15 October 1917 at 06:15 AM in Vincennes
Lunar : 15 October 1917 at 06:15 AM in Vincennes
Progressive Lunar Return : 15 October 1917 at 06:15 AM in Vincennes
Moon Phases Last Quarter: 7 October 1917 at 23:13:55 AM in Vincennes