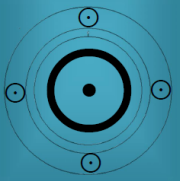 Kupcinet, Karyn
6 March 1941 at 18:28 (= 6:28 PM )Chicago, Illinois, 41n51, 87w39
American stage, film, and television actress and homicide victim.
The coroner concluded that due to a broken hyoid bone in her throat, Karyn Kupcinet had been strangled. Her death was officially ruled a homicide, which remains officially unsolved.
https://www.astro.com/astro-databank/Kupcinet,_Karyn
https://en.wikipedia.org/wiki/Karyn_Kupcinet
Andrew Prine

Born February 14, 1936 Jennings, Florida, U.S.
https://en.wikipedia.org/wiki/Andrew_Prine
During the course of their investigation, the Los Angeles County Sheriff's Department named Andrew Prine as one of their chief suspects. When questioned by law enforcement, Prine said he had talked with Kupcinet twice by phone on Wednesday, the day before her murder, claiming he was trying to patch up a lover's quarrel between them. Detectives considered it possible that after Prine learned the anonymous threat letters both he and Kupcinet had received had been created by Kupcinet herself, that and their unresolved argument gave him a motive for murder. In addition, both Edward Rubin and Robert Hathaway, the two men who had possibly been the last to see her alive, were friends of Prine. They were also eventually named as suspects.
In 1988, Kupcinet's father Irv published a memoir in which he revealed that he and his wife Essee (Karyn's mother) believed that Andrew Prine had had nothing to do with Karyn's murder. He was suspicious of a person, still alive when he wrote his memoir, who had no connection to Prine.
https://en.wikipedia.org/wiki/Karyn_Kupcinet#Theories
1. inner circle (1) : victim's natal
2. inner circle (2) : victim's progression,-solar,-lunar
3. inner circle (3) : murderer's natal
4. outer circle (4) : murderer's progression,-solar,-lunar
Secondary
(red)Murderer's pSU(4) = victim's rMA/rSA(1) = victim's rVE/rPL(1) = victim's pSA/pPL(2)

(green)murderer's pPL = pSA/pUr = murderer's pVE/pNE(4) = victim's rSU(1) = victim's pSU(2) = victim's pUR(2)

also :

victim's pMA(2) = murderer's rMA/rSA(3) = murderer's rSU(3)
Secondary converse
(red)Murderer's pSU(4) = murderer's rMA/rSA(3) = murderer's rSU(3)

(green)murderer's pMA/pSA(4) = victim's pVE(2) = victim's rVE(1)

also :

murderer's pPL(4)= victim's rMA/rSA(1)
Tertiary
| | |
| --- | --- |
| | murderer's pSU(4) = victim's pMA(2) = victim's rMA/rSA(1) |
Minor
| | |
| --- | --- |
| | murderer's pSU(4) = victim's pVE(2) = victim's rMA/rSA(1) |
Progressed Lunar Return
| | |
| --- | --- |
| | victim's pSU/pSA(2) = murderer's rSU(3) = murderer's rMA/rSA(3) |
13.03.2018
Cemal Cicek