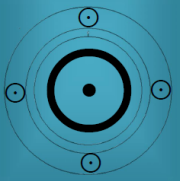 Leigh, Janet
6 July 1927 at 14:15 (= 2:15 PM )Merced, California, 37n18, 120w29
American actress and author famous for her shower scene in classic horror film "Psycho" in 1960.
Source Notes
B.C. in hand from the Wilsons
(Contemporary American Horoscopes has 3:15 PM. The B.C. is blurred and difficult to read. Roscoe Hope in AA 4/1986 reads the B.C. as 3:10 PM. LMR and Steinbrecher agree that it reads 2:15 PM. Gauquelin Book of American Charts also gives 2:15 PM. Leigh herself apparently agrees with 2:15 PM as that is the time she wrote to Steinbrecher upon his inquiry."
Wir vergleichen die beide Geburtszeiten (14:15 und 15:15) mit ihrer Tochter Kelly Curtis durch Merkur und Venus Returns,weil es um Tochter`s Geburt (Merkur und Venus) geht.
Wenn es Sohn wäre,sollten wir nach Merkur und Mars Returns schauen.
Curtis, Kelly
17 June 1956 at 14:14 (= 2:14 PM )Santa Monica, California, 34n01, 118w29
Merkur Return
Wie wir hier sehen, Return-Venus mit radix-Venus ganz exakt.Dagegen im zweiten Horoskop (Geburtszeit 15:15) sind die beide Venus nicht exakt.(Rote Punkt im Kreis ist exakt-harmonic Punkt)

Ausserdem:

Return Mond = Radix Mond = rSO/rJU
Return Mars = Return Jupiter = rME = rKN = rME/rKN
Return AC = Return Sonne = rAC/rJU
Return Uranus = rMA

Wenn die Geburtszeit 15:15 Uhr wäre:

Return Mond = rPL
Return Uranus ist mit Radix Mars nicht mehr exakt.
Return Sonne = -
Venus Return
Hier sind Return Merkur und Pluto mit Radix Mond(rSO/rJU) exakt, wo auch Merkur-Return Mond war.

Ausserdem:

Return Mond = Return Jupiter
Return AC = Return MC = rSO
Return Sonne = rUR


Wenn die Geburtszeit 15:15 Uhr wäre :

Return Merkur = rVE/rSA = rJU/rSA
Return Mond = Return Pluto = rMA/rUR
Return Sonne = rPL
Return AC = rSA
Man kann die Geburtszeit der Mutter umgekehrt auch kontrollieren,indem man Geburt der Tocher als Radix und Geburt der Mutter als Ereigniss nimmt.
Wie ich schon in meiner Forschungsarbeit geschrieben habe,nehmen wir Geburt der Tochter als Radix und rechnen wir Progressionen von dieser Geburtszeit.
Weil es sich um eine Stunde Unterschied handelt ( 14:15 oder 15:15),rechnen wir Tertiary Progression und schauen wir,ob die Mutter um 14:15 Uhr oder 15:15 Uhr geboren worden ist.Um die Unterschiede sehen zu können,müssen wir mit größeren Harmonics rehnen.
Curtis, Kelly (Radix)
17 June 1956 at 14:14 (= 2:14 PM )Santa Monica, California, 34n01, 118w29
Tertiary für die Mutter
Tertiary Progression für 6 Juli 1927 14:15 Uhr

Tertiary Mond = Tertiary AC = Tertiary Knoten = Radix AC

Tertiary Progression für 6 Juli 1927 15:15 Uhr
Tertiary Converse 6 Juli 1927 14:15 Uhr

Tertiary Converse Mond ist gleiche Stelle wie Tertiary Mond = Radix AC


Gleichzeitig zeigt auch ter-MA = ter-MO die Geburt.

Tertiary Converse 6 Juli 1927 15:15 Uhr
Transit für 6 Juli 1927 14:15 Uhr
Wie Tertiary Converse Mond und Venus sind auch Transit Mond und Venus gleiche Stelle.
Transit Jupiter = Radix Mond = Radix Knoten ist 15:15 Uhr nicht vorhanden

Um 15:15 Uhr ist Transit Venus = Radix Saturn

Um 14:15 Uhr Transit Mars = Radix Mars = rMA/rJU

Wie wir hier sehen,kann man auch mit dieser Technik die richtige Geburtszeit feststellen,kontrollieren und korrigieren.

Die richtige Geburtszeit in diesem Fall 14:15 Uhr
28.03.2017