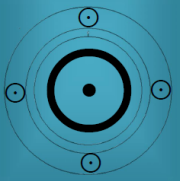 Jagger,Mick
26 July 1943 at 02:30 (= 02:30 AM )Dartford, England, 51n27, 0e14
British musician, singer, songwriter and actor, best known as the lead vocalist and a founder member of the Rolling Stones.
Jagger, Elizabeth

2 March 1984 at 01:37 (= 01:37 AM )New York, New York, 40n43, 74w0
The daughter of Mick Jagger
Theory 2- Family member's sun position on their birth chart has to be in exact harmonic.
Compare

Jagger, James
28 August 1985 at 11:30 (= 11:30 AM )New York, New York, 40n43, 74w0
Compare to Jagger,Mick
Jagger, Gabriel
9 December 1997 at 07:00 (= 07:00 AM )London, England, 51n30, 0w10
Source Notes
Sy Scholfield quotes "A baby boy for Mick Jagger and wife," Associated Press Newswires, 9 December 1997, 10:31 GMT: "This baby - an 8-pound, 3-ounce boy named Gabriel Luke Beauregard Jagger - was born early today in London and is the fourth child of Jagger, 54, and his 41-year-old wife, Jerry Hall, said Jagger spokeswoman Fran Curtis in New York."
Compare : 9 December 1997, 10:31 GMT
Jagger, Georgia May
12 January 1992 at 16:00 (= 4:00 PM )London, England, 51n30, 0w10
Rodden Rating C
Compare
05.06.2015
Cemal Cicek