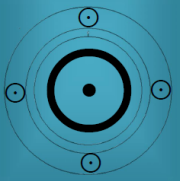 Bush, George H. W.
12 June 1924 at 10:30 (= 10:30 AM ) Milton, Massachusetts, 42n15, 71w04
Source Notes
Robert Cole quotes news clipping in Mercury Hour, 4/1989, "Prescott Bush's first son was born at a quarter of noon." Carol Griffin quotes him for 11:38 AM in 1980 at at lecture. Zip Dobyns quotes a friend of the family for 11:05 AM. Steinbrecher quotes his personal secretary, G. Hayward, letter on White House stationery, "born at home at 12:00 Noon".
In June 2008, Wayne Turner wrote the following to Pat Taglilatelo that Bush was born between 10 and 11 AM giving as the source the following: "I received the following email in May 2008:Thank you for contacting the George Bush Presidential Library. The information we have on the time of the former president's birth comes from the Bush Family Scrapbook, 4/1974-10/1974; Dorothy W. Bush Collection, Reminiscences of Dorothy Walker Bush, which relays that George H. W. Bush was born at home at 173 Adams Street in Milton,Massachusetts, a suburb of Boston, on June 12, 1924 between 10:00 and 11:00 a.m. Dr. Thomas R. Goethals of 443 Beacon Street, Boston, Massachusetts attended to Mrs. Bush along with an unidentified midwife during the delivery.
Sincerely, John Blair Archives Technician, George Bush Presidential Library, National Archives and Records Administration
Atr on 18 March 2013: Wayne Turner's quote seems the best source, which results in a birth time of 10.30 am, with 30 minutes uncertainty. The newspaper report by Cole is not verified.
Secondary :
parent->child relationship with Bush, George W. (born 6 July 1946 at 07:26 AM)
Son : ME/MA
pME = ME/MA = MA/MN = MC
pUR = pVE = pPL = ME/JU = MN/JU = UR
pMA = pJU = SU
pMN = MC/JU
pMC = ME = MN
pMO = AC = MC/ME = MC/MN



Secondary Converse
pME = MO = ME = MN = MO/ME = MO/MN
pMC = JU = MC/PL = VE/JU
pSU = pMA = pJU = MO/PL
pMN = SU/JU
pMO = pUR = MA/JU
pVE = pPL = PL


Lunar Return
lMA = AC = MC/ME = MC/MN
lMC = MC/SU
lUR = JU

it is clear that he has birth time 11:38