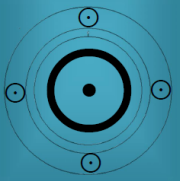 Aircraft Explosion
American accident, a fiery explosion of an aircraft during refueling; six men killed.
The KC-135 had minor electrical and avionics system problems that were being repaired. While repairs were being conducted by ground crew members, an explosion occurred in the centre wing fuel tank. A fire erupted, destroying the plane. The explosion was probably caused by am overheated fuel pump.

Theory 7- People who involved in same event have their sun positions in exact harmonic.
Foran, Patrick
Heath, Michael
Russell, James
Shurr, Russell
Straszak, Roy
http://www.astro.com/astro-databank/Accident:_Aircraft_Explosion
Compare :

Foran, Patrick 19 December 1961 at 07:48 (= 07:48 AM )Milwaukee, Wisconsin, 43n02, 87w54
Heath, Michael 3 January 1961 at 21:33 (= 9:33 PM )Melrose Park, Illinois, 41n54, 87w51


Foran, Patrick
Russell, James 6 April 1960 at 23:35 (= 11:35 PM )Cudahy, Wisconsin, 42n58, 87w52
Foran, Patrick
Shurr, Russell 24 March 1958 at 03:30 (= 03:30 AM )Milwaukee, Wisconsin, 43n02, 87w54
Foran, Patrick
Straszak, Roy 13 November 1936 at 04:00 (= 04:00 AM ) Milwaukee, Wisconsin, 43n02, 87w54
28.05.2015
Cemal Cicek