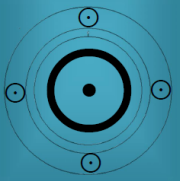 Lincoln, Abraham
12 February 1809 at 06:54 (= 06:54 AM ) Hodgenville, Kentucky, 37n34, 85w44
Source Notes
American Astrology, 4/1942, quotes William E. Barton, "Women Lincoln Loved," 1927, p.81-85, "born at sunup."
Sunrise on that day in Louisville, Kentucky was 6:55 am, according to this website
Wayne Turner quotes Carl Sandburg, "Abraham Lincoln: The Prairie Years and the War Years," p.22 from the "granny woman" midwife Peggy Walters, "The baby was born just about sunup, on Sunday morning." Sandburg did not include this story in his first work, either because he wasn't aware of it or didn't trust it, but he includes it here. It isn't foot noted, so we are still one step away from the original source, but I think many people will be able to find this book in a larger library."
Interview with Peggy Walters
(Formerly, "Horoscopes of U.S. Presidents" gave 2:10 AM. Wemyss Famous Nativites gave, "between 7:00 and 11:00 AM." Independently and in different years, T. Pat Davis and Manly Palmer Hall rectified the time to 8:36 AM.)
Starkman rectified it to 8.34.42 LMT.
http://www.astro.com/astro-databank/Lincoln,_Abraham
14 April 1865 at 10:13 AM in Washington, DC (Shot by John Wilkes Booth)
Death by Homicide 15 April 1865 at 07:22 AM in Washington, DC (Wounds from shooting, age 56)
Minor Progression : 14 April 1865 at 10:13 AM in Washington, DC (Shot by John Wilkes Booth)
| | |
| --- | --- |
| | pMA = SU/MA |
Minor Progression : Death by Homicide 15 April 1865 at 07:22 AM in Washington, DC (Wounds from shooting, age 56)
| | |
| --- | --- |
| | pMA = MA/SA |
Tertiary Progression : 14 April 1865 at 10:13 AM in Washington, DC (Shot by John Wilkes Booth)
pSU = pMA = pUR = ME/MA = MC
pME = MA
pAC = MA/NE

Tertiary Progression : Death by Homicide 15 April 1865 at 07:22 AM in Washington, DC (Wounds from shooting, age 56)
pSU = UR
pAC = pSA = MN
Tertiary Converse Progression : 14 April 1865 at 10:13 AM in Washington, DC (Shot by John Wilkes Booth)
| | |
| --- | --- |
| | pMC = AC/NE |
Tertiary Converse Progression : Death by Homicide 15 April 1865 at 07:22 AM in Washington, DC (Wounds from shooting, age 56)
| | |
| --- | --- |
| | pMC = MA/SA |
Minor Converse Progression : 14 April 1865 at 10:13 AM in Washington, DC (Shot by John Wilkes Booth)
| | |
| --- | --- |
| | pMC = AC/PL |
Minor Converse Progression : Death by Homicide 15 April 1865 at 07:22 AM in Washington, DC (Wounds from shooting, age 56)
| | |
| --- | --- |
| | pMC = pUR = MC/UR |
it is clear that Abraham Lincoln has birth Time 02:10 AM