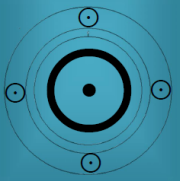 90-Years Mirror
I have compared and noted that the events are reflected in 90 years, that the life events of a person, who i know. For example, If you have experienced something important (eg marriage) at the age of 22 years, which (90-22 =) 68 is in the mirror-year, you should have a important Experience . It may of course be just a coincidence. Many people do not live as long and some die before age 45.
I find it very interesting that Hillary Clinton`s Marriage (28) with daughter's marriage (62) are in the mirror.

Is it possible to make the prediction without horoscopes, that she will be at the age of 69 president, because she was elected president of Wellesley College, when she was 21?
Clinton, Hillary 26 October 1947
to 45 Years

Years
Years

from 45 Years

Bill Clinton returned to the governor's office two years later after winning the election of 1982.
35
55
Published/ Exhibited/ Released 9 June 2003 (her memoir)
Daughter Chelsea born 27 February 1980
32
58
United States Senate election in New York, 2006
Bill Clinton had in November 1976 was elected Arkansas Attorney General, and so the couple moved to the state capital of Little Rock.
29
61
Secretary of State on December 1, 2008
Marriage 11 October 1975
28
62
Marriage 31 July 2010 (Chelsea Clinton)
She received a Juris Doctor degree from Yale in 1973
26
64
Mother, Dorothy Rodham, died at age 92 on November 1, 2011
1971 she began dating Bill Clinton
23-24
66-67
Grandchild born 26 September 2014

Hillary Rodham graduated from Wellesley College in 1969
and entered Yale Law School

22
68
On April 12, 2015, Clinton formally announced her candidacy for the presidency in the 2016 election
In early 1968, she was elected president of the Wellesley College Government Association and served through early 1969
21
69
2016 Nevember
Clinton, Bill 19 August 1946
| | | | |
| --- | --- | --- | --- |
| to 45 Years | Years | Years | from 45 Years |
| Gain social status 14 January 1987 (Elected into fourth term of office) | 41 | 49 | Begin significant relationship 15 November 1995 (Began sexual relationship with Lewinsky) |
| 2 November 1984 (Elected to third term as Governor) | 38 | 52 | Lose social status 9 September 1998 |
| In 1982, he was again elected governor and kept the office for ten years | 36 | 54 | On 10/01/2001 the Supreme Court suspended former President Clinton from practicing law |
| Daughter Chelsea born 27 February 1980 | 33 | 57 | His new book, "My Life," was released on June 22, 2004 |
| Clinton was elected Governor of Arkansas in 1978 | 32 | 58 | Medical procedure 10 March 2005 |
| Married on October 11, 1975 | 29-30 | 60-61 | Death of stepfather Richard Kelley 31 January 2007 |
| 1971 Entered Yale Law School, In the Yale Law Library in 1971 he met fellow law student Hillary Rodham | 25-26 | 64-65 | Chelsea Clinton Marriage 31 July 2010 |
| In 1964 and 1965 he won elections for class president | 19 | 71 | Hillary Clinton candidacy for the presidency in the 2016 election |
Rodden, Lois M. 22 May 1928
to 45 Years

Years
Years

from 45 Years

21 September 1968 (Began career as pro astrologer)
40
50
Published/ Exhibited/ Released 9 June 1978 (Modern Transits published)
End significant relationship 4 August 1966 (Husband moved out)
38
52

- 9 January 1980 (Melanoma surgery, excise 8 cm from left arm)

- Begin significant relationship 17 March 1980 (Dinner with Victoria Shaw, began friendship)
Begin a program of study October 1961 (Began study of astrology)
33
57
In 1985, Rodden made an agreement with ISAR to put her extensive data collection on computer in order to provide data to astrologers at a reasonable price.

-15 December 1959 (Move to West Covina, CA, miserable house)

- 26 November 1960 (Jonathan born)
31-32
58-59

- 25 October 1985 (Accepted offer on Hollywood house, 450% profit)

-1 January 1986 (Moved happily to Yucaipa, CA)
Change residence 15 July 1957
29
61
16 November 1988 (Post-mastectomy breast construction)
Death of Child 20 July 1956 (Baby bled to death during delivery)
28
62
Begin Travel 9 March 1990 (Began trip to Spain, U.K. Ireland)
Abortion/ Miscarriage July 1955 (Early miscarriage)
26-27
63-64

Death of Sibling 8 February 1992

- Prize 1992 (Regulus Award for Enhancing Astrology's Image

On 2/13/1949, Lois married George Rodden

21
69

-Death of Mother 22 August 1997 (Mom died at 96)
- Contracts, agreements 2 July 1997 (Contract with Mark McDonough for AstroDatabank)

-Medical diagnosis 1997 (Osteoporosis onset; multiple fractures of spine in 1998)